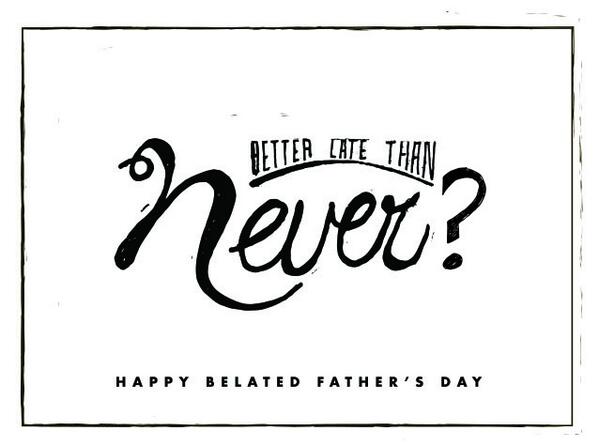 [Photo: Felt App on Twitter]
 It has been a long time since my last post!
I know that I am a little late on acknowledging Father's Day. You will have to excuse me for my son and I were on a flight back home to Raleigh that Sunday after a two-week trip to my hometown to L.A. to assist my mother, who had knee replacement surgery. Son and I had a wonderful time taking care of her and going around L.A., especially the beaches of Venice, Hermosa, and Redondo, not to mention driving through the South Bay area of Palos Verdes and Rancho Palos Verdes.
Every Father's Day I think about two things: 1) the relationship with my Father and 2) my relationship with my son. My father, James Henry Wade, died six years ago and we had a good relationship. He and my mother were separated during the crucial formative years of adolescence and teenage years but he always gave me guidance and loved me.  He was always proud of me and my accomplishments and that meant a great deal. Similarly, I am very proud of my son. It was interesting to me when I first became a father. I will always remember when I first saw him with his head sticking out of my wife's stomach (she had a C-section) before he was completely pulled out. It was a strange time learning how to be a dad. People who know me will tell you that I am NOT good with small children and when my wife would give him to me as a newborn,  I would hold him for a few minutes and say, "OK, you can have him back." My wife would get totally upset with me! Later as he grew, could talk and understand things we would have the best time hanging out with each other with me sharing my wisdom and visiting places. Now as a 15 year old, he is totally on his cellphone but we do talk and have great conversations. He is a wonderful young man who has goals in life with the main one attending Harvard, Stanford, or Yale for college. He just finished his first year of high school and received only two "B's' and the rest "A's" for all four quarters of 9th grade, making the honor roll all four times - in honors classes. He loves church (strange?), especially being an usher. He is well spoken of at the YMCA he attends. He even started attending Young Life meetings at his school. Son does not hang out with friends a lot, preferring to stay at home. I am very proud of him and I believe I have tried and continue to try to impart wisdom and knowledge as he continues to grow. My wife and I also know he has three years left with us before he goes on to college.
On the other hand, I do fear for him. I am concerned for his safety and well-being as a young Black man in this society. Every time I hear of another Black man being shot and killed (by the police or someone else) it makes me stop and shudder. Statements from people like Franklin Graham are shortsighted at best and plain mean at worst. Statistics given by this article in theblaze doesn't give me any reassurance. More often that not I have had a number of conversations with my son around how to act when approached by a police officer, how to handle it when someone calls you a n****r, how to deal with discrimination or people not liking your for whatever, staying away from gang members, refusing drugs and alcohol, etc. I have even had to talk with him about how other Black students may use the stigma of "acting white"on him because he is doing well socially and academically and how to overcome that. It is becoming more and more the case that I totally understand when people of color say that dealing with this everyday is stressful. 
Yet everyday I wake up giving my fears to God and dreaming of how God will continue to have him grow and be the person he is to become. I dream of being with him every step of the way, become more and more a Father and listener and less of telling him what to do. I look forward to him becoming successful as he plans to become a physician (at least that is the plan as of today). And I hope he will see me as a Father who tried and continues to try his best to lead and walk alongside him the rest of my days.
Happy Belated Father's Day to you all.